Rome, Italy
(Outgoing Program)
| Term | Year | App Deadline | Decision Date | Start Date | End Date |
| --- | --- | --- | --- | --- | --- |
| Spring | 2017 | 10/01/2016 | 10/22/2016 | TBA | TBA |
| Fall | 2017 | 03/01/2017 | 03/15/2017 | TBA | TBA |
| Summer Session I | 2017 | 03/01/2017 | 03/15/2017 | TBA | TBA |
| Summer Session II | 2017 | 03/01/2017 | 03/15/2017 | TBA | TBA |
Housing Options:
Apartment, Student Residence Hall
Language of Instruction:
English, Italian
Minimum GPA:
2.5
Program Type:
Direct Placement
Area of Study:
Art History, Business, Communications, Economics, English Literature, History, Italian, Management, Marketing, Mass Communications, Political Science, Sociology, Studio Art
Semester in Rome: John Cabot University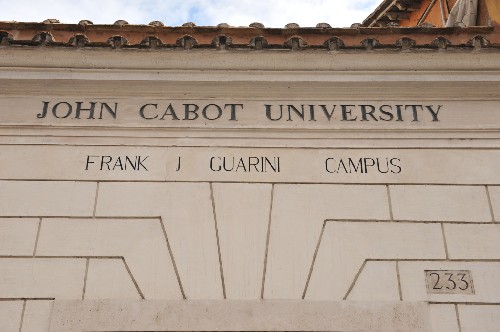 PROGRAM OVERVIEW


John Cabot University, founded in 1972, is an independent, four-year liberal arts university offering undergraduate degrees and study abroad programs to English-speaking students from all over the world. Through an inter-institutional relationship with John Cabot University (JCU), SIUE students may study for a full academic semester at John Cabot University to earn SIUE credit in various disciplines. Approved SIUE students will receive a 10% discount on JCU tuition.



.

All courses are taught in English except for the Italian language courses. Many of the courses allow students to explore Rome as a living laboratory. From Etruscan ruins and the Roman Colosseum to the Christian catacombs and the Vatican, you will have the chance to study architecture, art, art history, archaeology, history, and religion on location at museums and historic sites.


See course schedules and course descriptions on the JCU website for more information.
HOUSING


JCU Housing provides (apartment style) accommodations to students in residential areas in order to promote an authentic study abroad experience in support of the overall mission of the University. Students housed with JCU are given the opportunity to live like Romans and should be mature, open to new experiences and ready for an international 'off-campus' housing experience. Living in JCU Housing will give students a better understanding of urban Italian life.



Gianicolo Residence - The Gianicolo Residence is home to a series of apartment-style student residences in Rome's Trastavere neighborhood. This learning and living community is just steps away from the Guarini campus and a short walk to the Tiber Campus Student Center and its dining services. Apartments house between 2 - 8 students and include a kitchen, bathroom(s) and a common living space. The building offers 24/7 security, a regular cleaning service, and air conditioning. The Gianicolo Residence is home to the JCU Housing and Residence Life Office and houses Resident Assistants (RAs) throughout the building.

Viale Trastevere Apartments - Each of the 12 Viale Trastevere Apartments is approximately 1700 square feet and accomodates nine students divided into two triple bedrooms, one double room, and one single room with two full bathrooms, one equipped kitchen, and a spacious living/dining area. This housing choice is an easy commute to JCU (approximately 25 minute walk or 15 minutes by public transportation); it is also a slightly more economical option.
All students in JCU Housing are assigned Resident Assistants who are available to help students in their residential life experience while at JCU. Resident Assistants live in the same neighborhoods as students and are available to answer questions, organize events and generally assist students in adjusting to Roman life. JCU also offerss a meal plan that can be used at the Tiber Cafe in the Tiber Student Center. Participating students are issued vouchers that can be used for a full meal at lunch time.
DATES
The John Cabot University academic calendar is very similar to the SIUE calendar. Fall semester runs late August - mid-December. Spring semester runs early January - early May. JCU offers two 5-week summer sessions.
TO APPLY:
Click the "APPLY NOW" button at the top of this online brochure page to create a SIUE study abroad application. Begin work on the SIUE requirements which include completion and submission of various items including Statement of Purpose essay responses, 1 Recommendation, and the SIUE Study Abroad Course Proposal/SIUE Equivalence Form. Contact Kim Browning in the Office of International Programs for advisement on courses and to obtain the necessary course approval form. After securing SIUE approval to study abroad, you will need to complete the online John Cabot University application form.
John Cabot will waive the normal $50 application fee for approved and nominated SIUE students.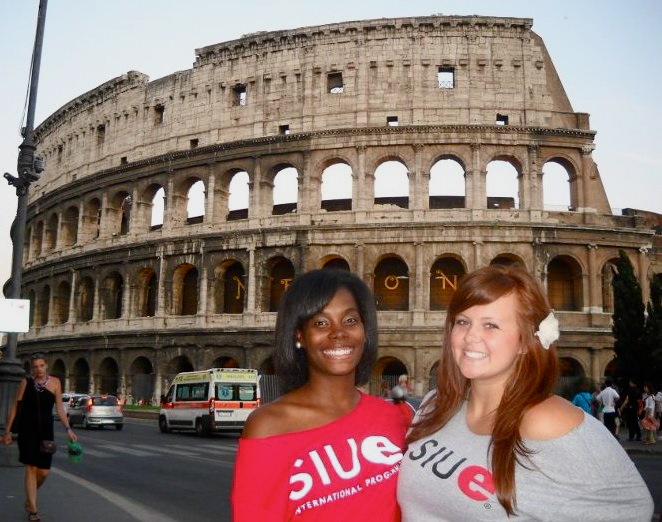 TUITION, HOUING COSTS and SIUE DISCOUNT
SIUE students approved for study abroad at John Cabot will receive a waiver of the normal $50 application fee and a 10% discount on John Cabot tuition. Accepted students will be required to pay JCU tuition and housing fees directly to John Cabot on the basis of their payment due dates. A $500 tuition deposit is due upon acceptance. A $1,000 housing deposit is required with the housing application to reserve a spot in housing.

See the JCU Tuition and Fees page for the most up to date tuition and housing costs at JCU. The tuition listed on this page does not include the 10% discount that approved SIUE students will receive on JCU tuition. SIUE Students pay JCU tuition and housing costs directly to JCU by their estabilished payment due dates. See payment options for more information.
MORE INFORMATION

:
Contact the SIUE Office of International Affairs in 0300 Student Success Center; Tel: 618-650-2419; email: studyabroad@siue.edu.
To request an advisement appointment, complete and submit the
online appointment request form
.
| | |
| --- | --- |
| On-site orientation: | |
| I was generally satisfied with my study abroad housing arrangements.: | |
| I was satisified with my on-site director.: | |
| As an academic experience, this program was worthwhile.: | |
| The criteria for student evaluation and assessment were adequately explained at teh beginning.: | |
| The criteria for student evaluation and assessment were adequately explained at the beginning.: | |
| Generally, my instructors abroad were very good.: | |
| This program was intellectually rewarding.: | |
| This was the wrong academic program for me.: | |
| Participation in this program enhance my understanding of the host country and culture.: | |
| Participation in this program enhanced my understanding of the host country and culture.: | |
| I had plenty of opportunity to interact with locals.: | |
| The field trips/excursions greatly enriched the program.: | |
| The program was worth the time I invested in participating.: | |
| The progarm was worth the money I invested to participate.: | |