Culture & Identity in Cuba
SIUE will offer a faculty led short term program to Havana, Cuba during Summer Session II, 2014 (July 7 - August 8). This unique course will be a blend of on campus learning combined with a study abroad component of 8 days in Cuba in the middle of the session. The core course is IS 399: Culture and Identity in Cuba. Students wishing to earn an additional 3 credits may do so via a History or English Independent Study Course (HIST 410, HIST 510, or ENG 499) arranged with the faculty leaders. Students who do not need IS credit may enroll in only one of the 3 credit independent study courses.

Enrollment options are:
For students seeking 3 credits:
Enrollment in 1 of the following courses: IS 399, HIST 410, HIST 510, or ENG 499

For students seeking 6 credits:
IS 399 plus 1 additional independent study course: HIST 410, HIST 510, or ENG 499

The C
UBA Experience
The study abroad portion of the course will include several days in Havana, visiting sites of cultural and historical importance as well as experiencing the textures and rhythms of daily life in the nation's capital and population center. Highlights include:
Museum of the Revolution in Havana

Museum of Fine Arts in Havana

Guided tour of Old Havana

A tour of the western end of the island to visit other towns and rural areas

Unique opportunities to speak with journalists and experts on indigenous religion, to meet hip hop artists & other musicians, and to visit artists' studios

Visits to organic farms and other sites of environmental interest
The group will experience a range of Cuban landscapes, from beaches to mountains, as well as urban centers. At every point the activities will be led by English speaking guides.

Informational Meeting:

December 6th, 12:00 - 1:00 pm, Conference Room 1203 SSC - All students interested in this program are invited to attend to meet one of the faculty leaders and to learn more about this amazing opportunity!
PROGRAM FEE:
6 - 9 participating students: $3,350 per student

10 + partcipating students: $2,750 per student

The Program Fee includes: Roundtrip airfare St. Louis, MO - Cuba, with stopover in Miami on departing flight, 1 night accomodations in Miami hotel, lodging in Cuba, ground transportation in Cuba, numerous unique guided tours and cultural activities (itinerary coming soon), some group meals.

Additional Costs to Consider:
SIUE tuition and fees, meals and spending money.
DEADLINES & PAYMENT DUE DATES:
February 7, 2014: Application Deadline

February 15, 2014: Decision Date (date by which accepted students will be notified)

February 21, 2014: $500 Deposit Payment is Due to confirm space in program

March 15, 2014: $1,500 payment due

April 1, 2014: Balance of program fee will be due - $1,350 if 6 - 9 participating students; $750 if 10+ participating students
The Class Schedule:
July 7 - 16: On campus class - SIUE campus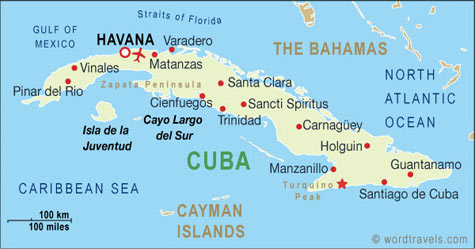 July 17: Group flight from St. Louis, MO to Miami, FL (overnight stay in Miami at hotel near airport)

July 18: Flight from Miami to Havana, Cuba

July 18 - 25: The Cuba experience with 3.5 days in Havana and visits to Vinales, Matanzas, Palpite, and Santa Clara

July 26: Flight back to St. Louis, MO via Miami

July 28 - Aug 8: On campus class - SIUE campus
FOR MORE INFORMATION, CONTACT THE FACULTY PROGRAM LEADERS:

Dr. Thomas Jordan, Department of Historical Studies, Email: thjorda@siue.edu
Professor Jordan specializes in Latin American history, teaching a wide variety of courses focusing on the whole region, with particular emphasis on Cuba, Mexico, and Brazil, along with a course that explores the relationship between Latin America and the United States. He lived for a year in Brazil as a Fulbright Scholar, and has previously led Study Abroad trips to Cuba, Brazil, and Costa Rica.

Dr. Jeff Skoblow, Department of English Language and Literature, Email: jskoblo@siue.edu
Professor Skoblow specializes in modern world literatures, with a particular emphasis on contemporary Latin American and Caribbean literature, and has taught modern U.S. literature as a Fulbright Scholar in Spain.